Meditation Robotics
The Meditation Robotics project initiated by the EPFL Laboratory of Cognitive Neuroscience (Simone Gallo, Giulio Rognini, Olaf Blanke) aims to support and enhance meditation practices through multimodal sensorial support that is fully integrated with mental and physical states during guided meditation. It combines audiovisual content with haptic inputs such as dynamic pressure, vibration, and temperature patterns. During this two-year project (started in September 2018) the EPFL+ECAL Lab was responsible for the investigation and development of a compelling user experience in the context of the Multimodal Guided Meditation technology developed by LNCO, with the following main goals:
– Define design principles for interfaces dedicated to devices supporting meditation, including the selection of parameters, user profiles, and evolution in time.
– Understand key factors of adoption for the user experience
– Create a coherent visual language taking in account virtual and physical interfaces and observe its impact
Throughout the project, all major design and strategic decisions are adopted in an iterative process, throughout UI/UX evaluations, design presentations and steering committees, in which design suggestions are discussed amongst the project partners.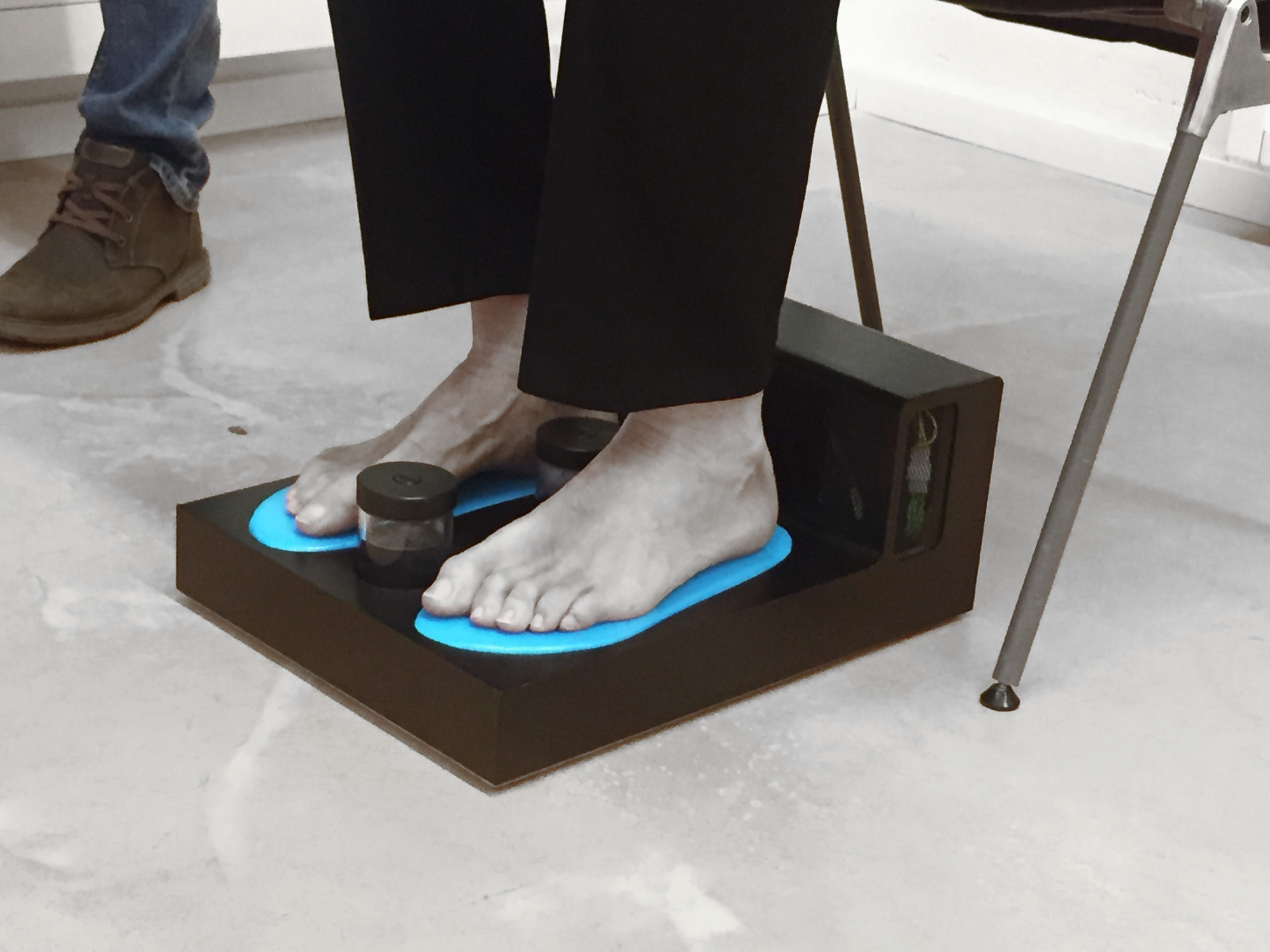 Current Meditation Robotics haptic device
The project is organized around three main design phases composed of prototyping and testing in order to provide the most suitable user experience solution in the specific case of multimodale guided meditation.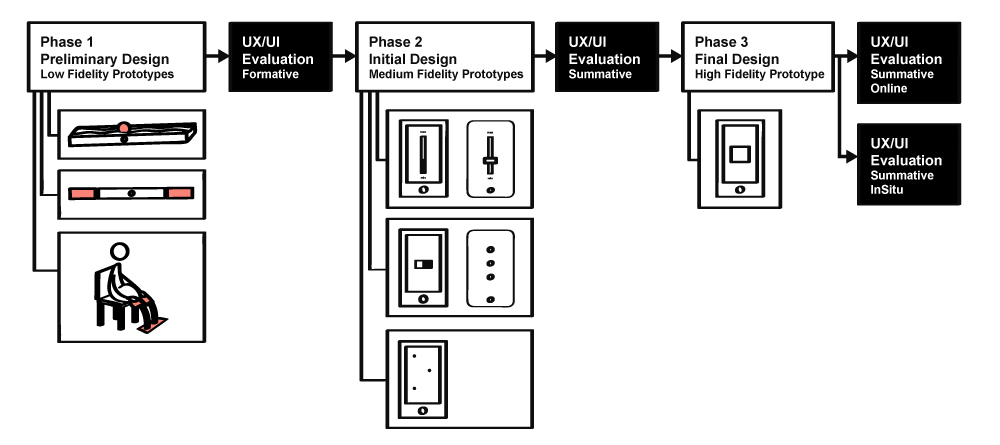 Phase 2
Based on the observations of the phase 1, we developed – through design research and recommendations – several scenarios and sub-scenarios of user experience based on interactive and non-interactive phases.
Read more about Phase 2
We decided to focus on four parameters setting (sound, temperature, pressure and rhythm). We also listed the possible medium of interaction in order to link and compare them to the research axis. The different creative inputs have led us to the development of five controllers based on three main user scenarios and interactions; Variable, Preference and Exploration. For Variable and Preference, an analog controller had been designed along with a smartphone app. It is so that we could define the ability of a user to be more able to use an analog or digital device for further development. For the phase 2, aesthetic and ergonomy of controllers are intentionally basic, so the users evalution are not biaised by any aesthetic preferences, leaving their development for the third phase of design. The research on user experience leds us to developp those three main user scenarios from the most pragmatic to the most hedonic interface. We thus observed that novice meditators were more confortable with pragmatic experience compared to advanced meditators that were more attracted by the hedonic experience. This also applied to user experience with the experience; we used a latin square during the tests, so all users would not begin with the same experience. The observations shows that user that started with pragmatic experience and ended with hedonic experience had a higher rating than the others.
"Variable"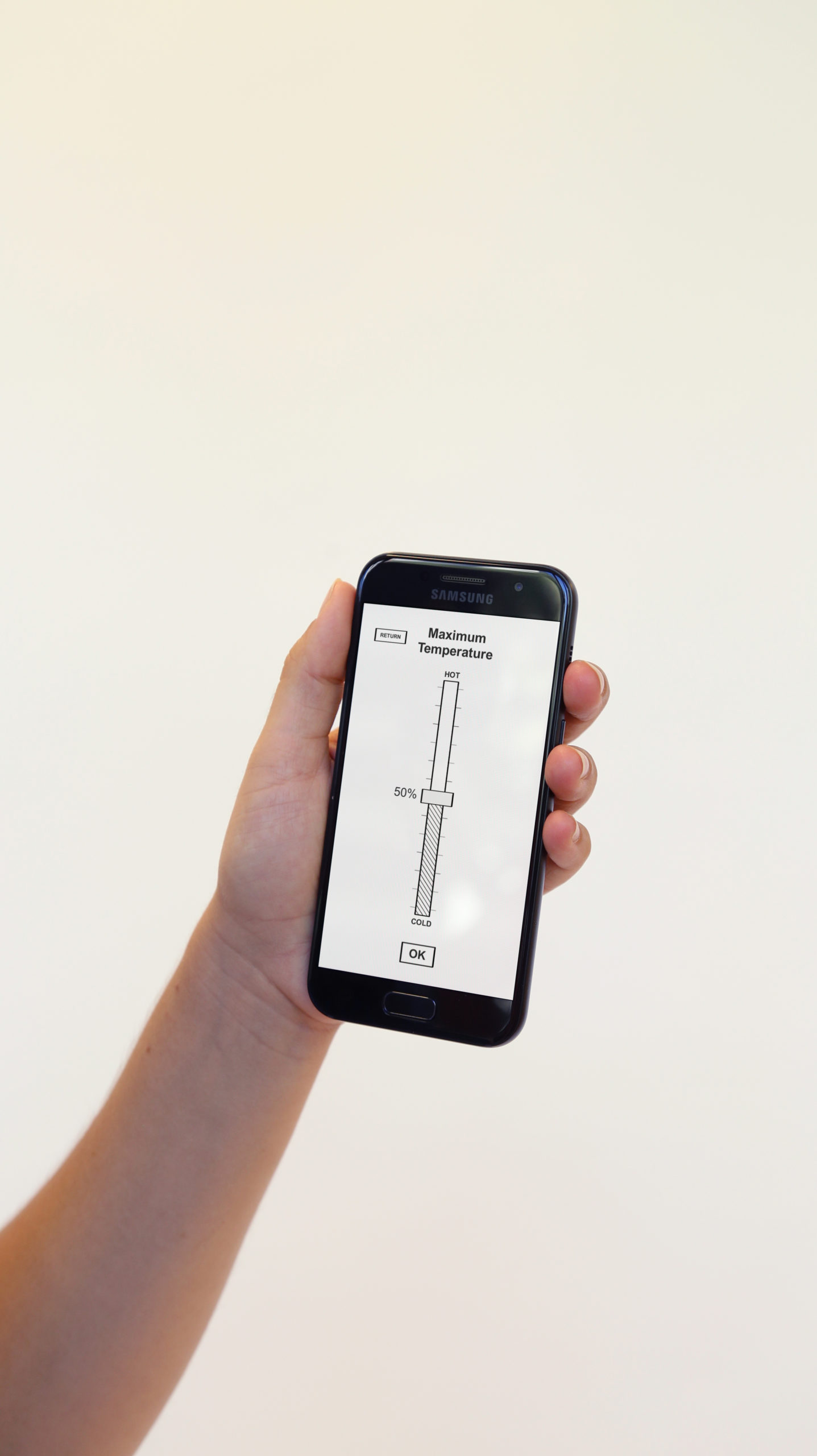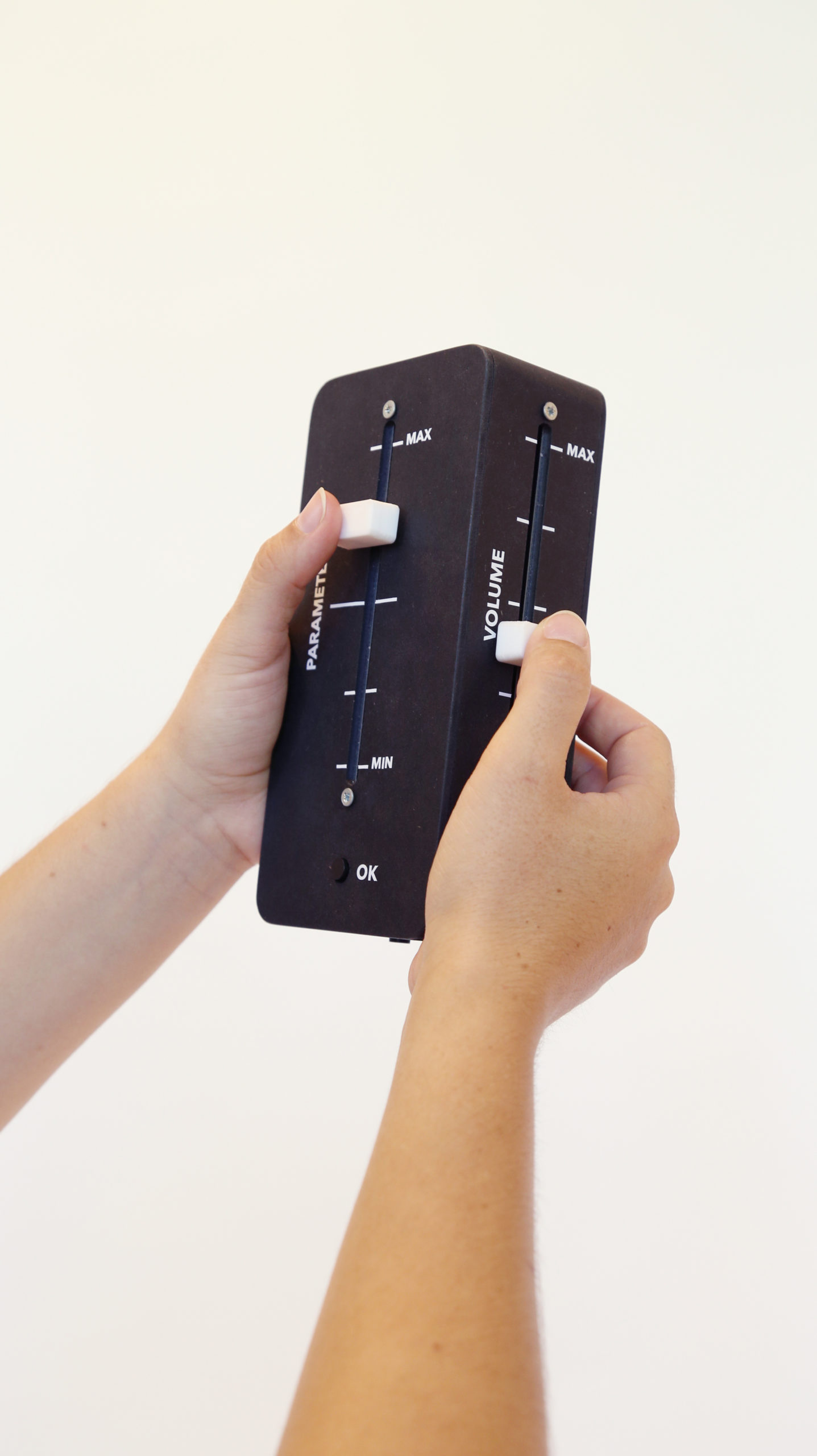 "Preference"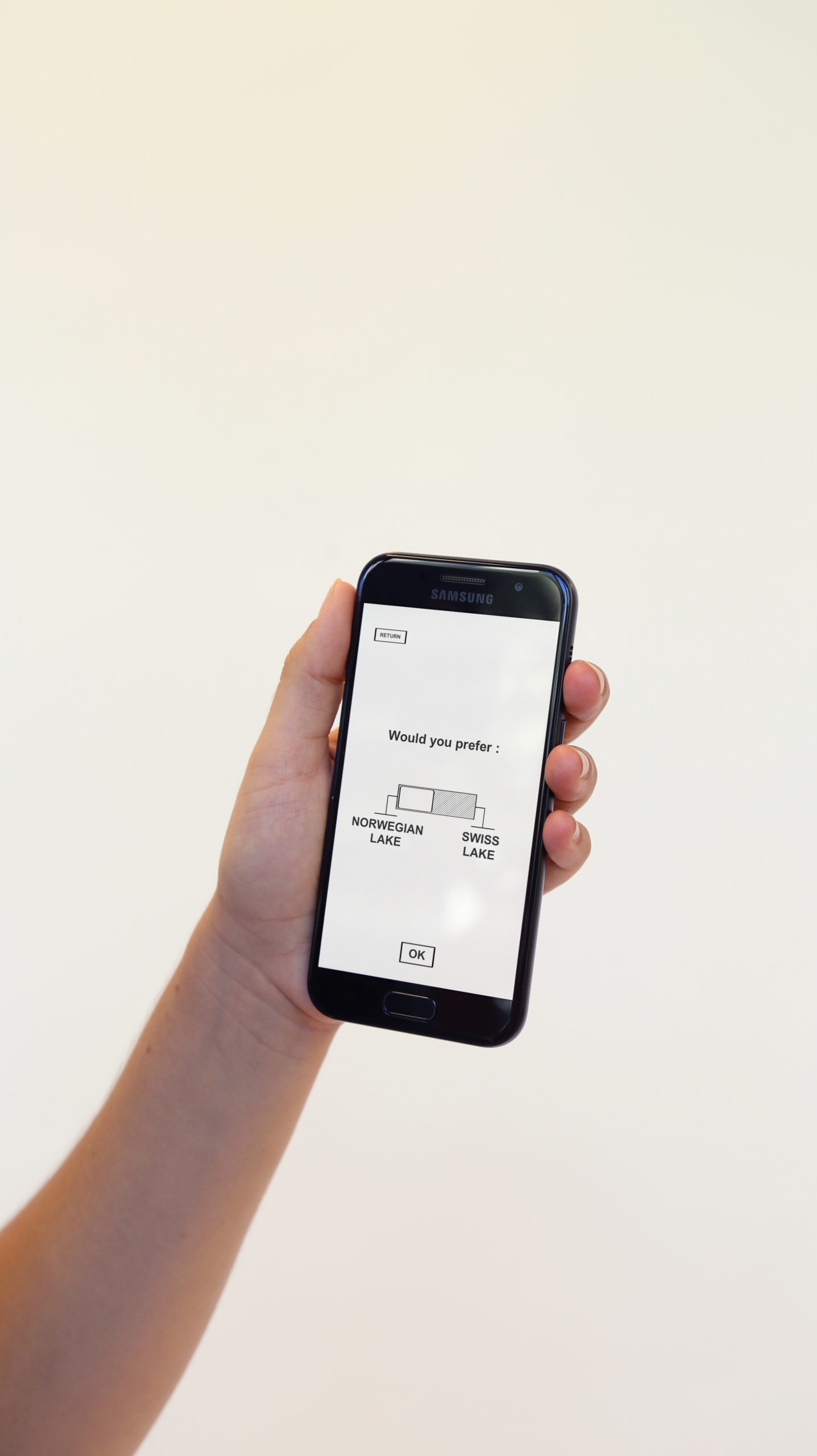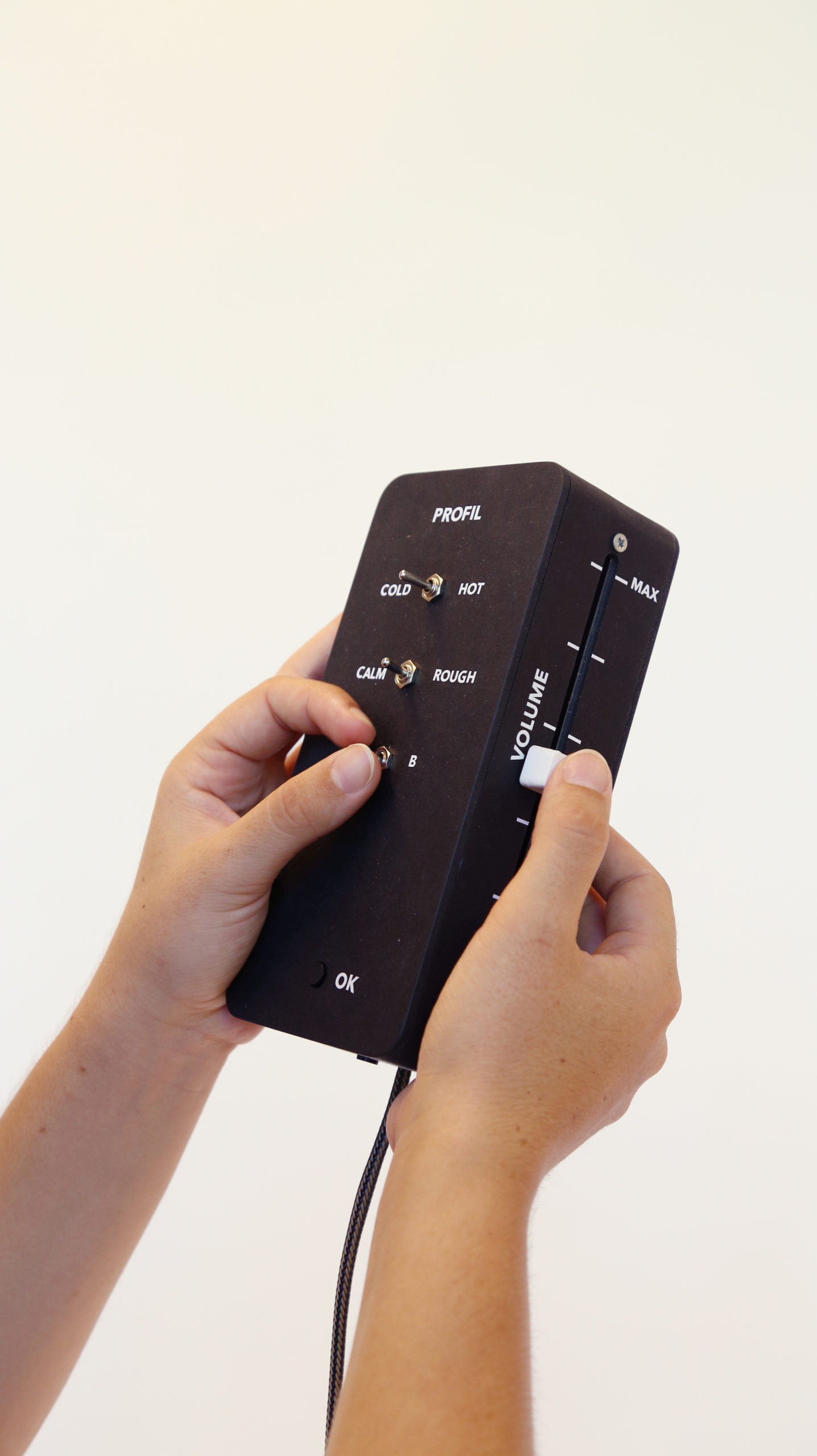 "Exploration"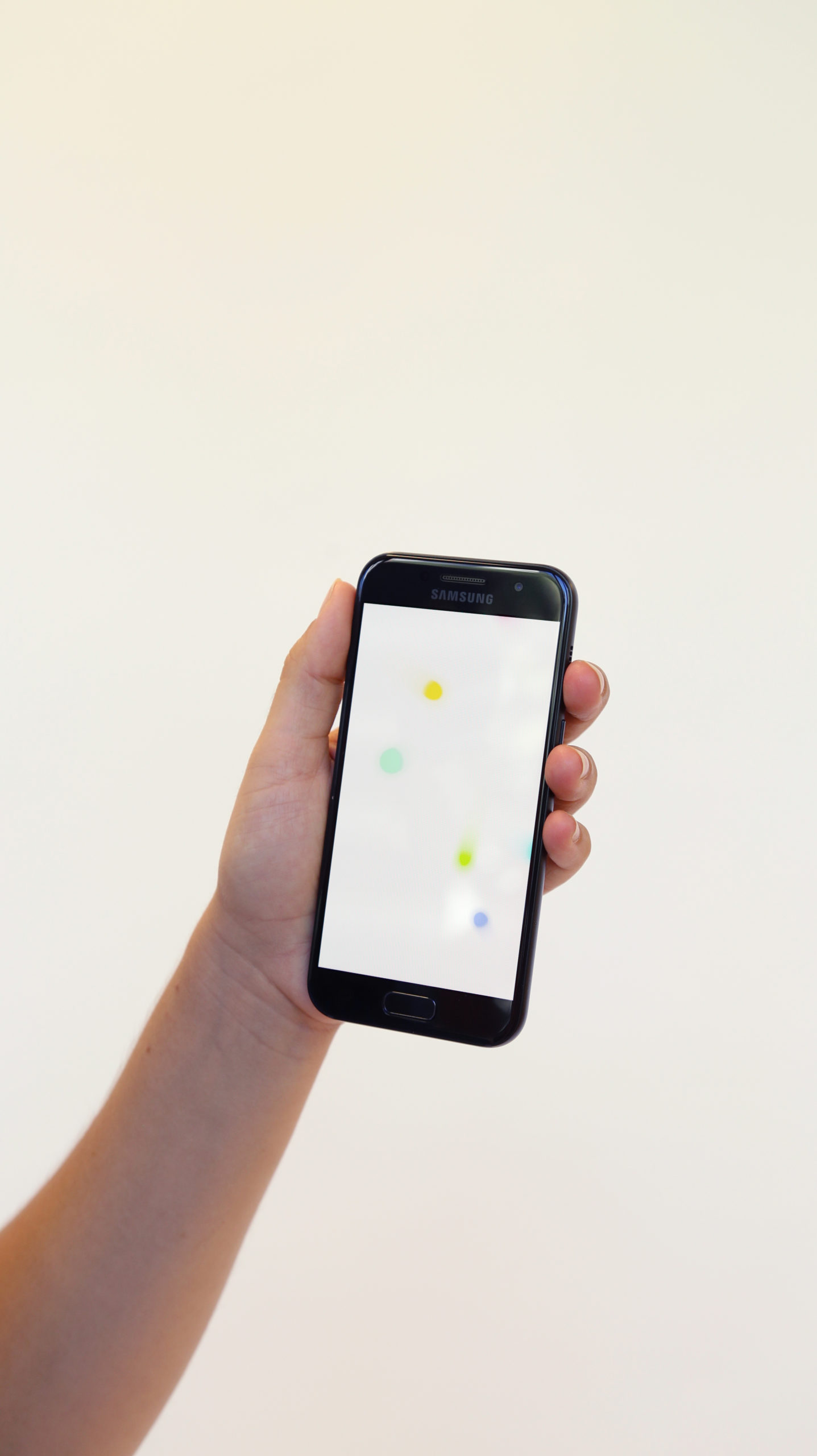 Phase 3
The phase 2 evaluation concluded that a Digital medium is preferable in our context, and that the experience should allow users to use either a pragmatic or hedonic interface depending on her/his preference or expertise with the system, non expert being more influenceable by the configuration experience. This leads us to explore solutions to create an experience that could be either hedonic or pragmatic, depending on user's input.
Read more about Phase 3
We kept focusing on four parameters setting (sound, temperature, pressure and rhythm) and defined a strategy to implement two scenarios regarding novice and advanced users on a mobile application. We decided to introduce an advance design proposal, we believe that this strategy would give the developed application an improved user acceptance and enhance the experience once more. In order to get inspiration for our application design, we first made a mood board of different categories of mobile application. This moodboard contains informations about meditation applications, as well as more diverse application from various business fields. Based on those insights, we determined several key aspects that we should implement in the final mobile application :
–Friendly design. The most successful meditation application on the current market (HeadSpace , PetitBambou , Namatata ) use simple and clean UI design, enjoyable artworks as well as friendly looking cartoon characters. We believe a friendly look helps the user to be confident and attached to the application features.
–Easy to use. Successful interfaces are intuitive and does not require knowledge or understanding to access their functions. Because we are proposing new ways of interacting with a meditation device, we have to keep the interfaces easy of use to keep the user confident with interactions she/he is familiar with.
–Clear UX path. Complex interfaces allows trials and errors through clear indications. Different buttons allows to go further, or back, in the application as well as undo a command. Wording and Color differentiations are a key aspect for the user to understand where she/he is in the application and where she/he is going next.
–Playfull UI. To improve the acceptability and the usability, we observed that applications use animated UI elements and transitions. It is also used to reduce the time of waiting for a user, giving a feeling of occupation if the application need time to load the next screen and ensure the user that the program is not blocked. Though tried and iterations, we designed several propositions and decided to focus on the following globale identity.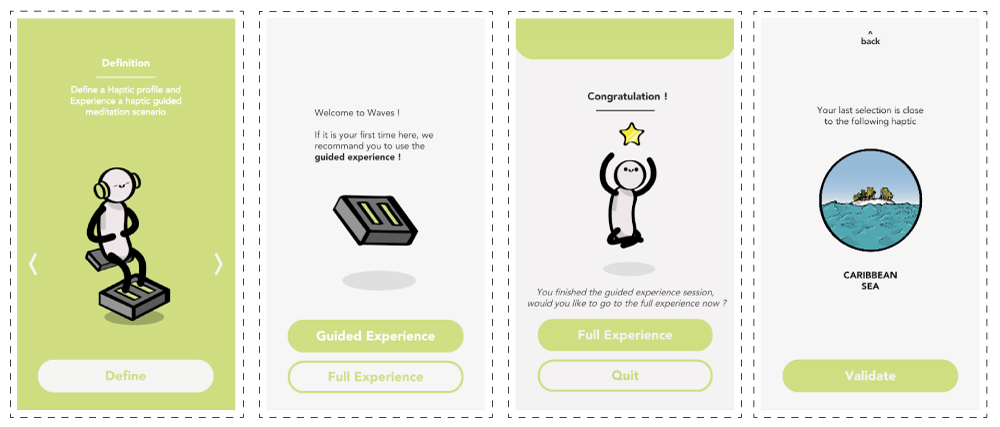 In order to have a strong identity, we designed the illustration in the same art style, and selected a clean color pattern; green, grey white and black. This color pattern is use to improve the path comprehension by the users and the overall coherence. Each color corresponds to a different level in the application ; mainly green is a menu, mainly white is an interaction screen and mainly black is a meditation screen.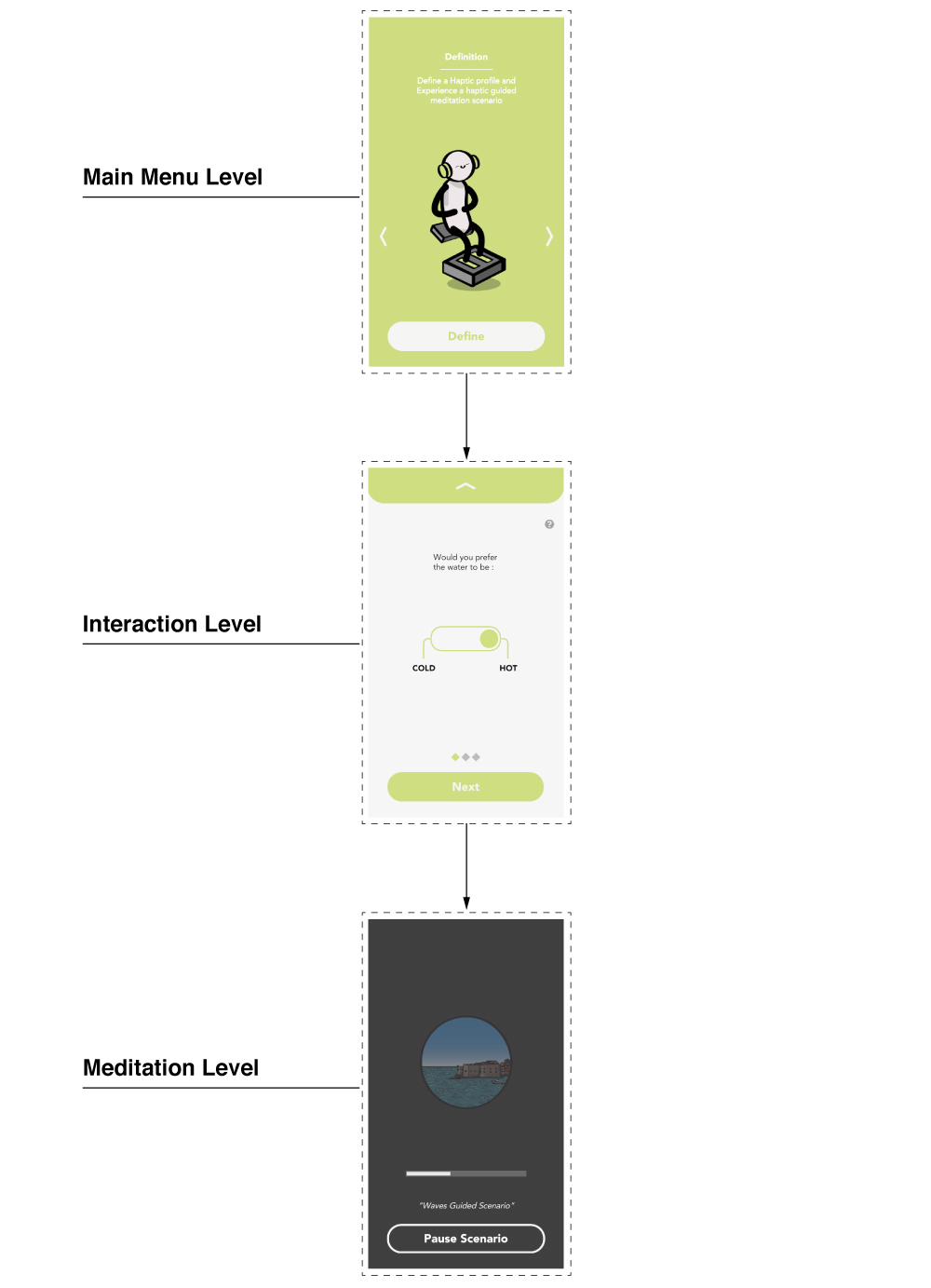 A full description of the research and the results can be available on request.
The following is a web version of the application we developed for the multimodal guided meditation project. For each parameter you can set in the application, an appropriate feedback is delivered by the Meditation Robotic device.
(Please note that unity WebGL is not currently supported on mobile or tablet browsers)